Darien @ Brien McMahon – Week 10 Preview
It'll be Thursday Night Football at Casagrande Field in Norwalk, Connecticut. A reschedule moved this week ten clash from Friday Night Lights to Thursday Night Lights.
Darien (5-3) will go to battle with FCIAC opponent Brien McMahon (3-5).
This week ten matchup has a lot at stake when looking at the CIAC Class L Playoff standings. Last week Shelton pulled off the upset against Cheshire, powering them three spots up from nine to six and bumping Darien down to the eighth spot. And if that is not bad enough, Darien only has a 30-point lead on the ninth-place Middletown on the bubble. These last two games for Darien are must-wins to keep the pressure.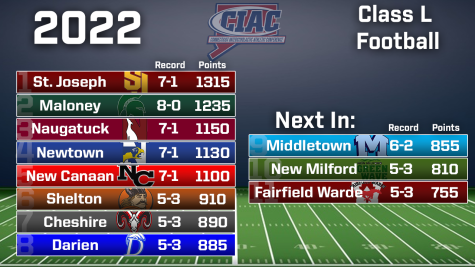 Middletown (6-2) plays the harder schedule down the stretch, playing Wethersfield (6-1) on Friday and Berlin (8-0) next week. This comes at a high-risk and high-reward situation. Middletown has a higher chance of losing to these good teams, but on the flip side, a win would give them boatloads of points. The way the points system works out is by beating a good team you receive points on their strength of schedule, so essentially Darien could win Thursday night, but if Middletown wins out then Darien would find themselves on the outside looking in and having essentially a play-in game on Thanksgiving Morning.
That's all hypothetical, what is known is Darien needs to take care of the Senators Thursday night to pick up the 110 points on the standings.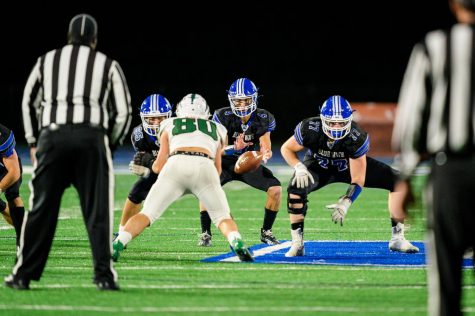 The Wave had a nice showing on Friday, demolishing the Norwalk Bears 49-0 behind 149 passing yards from Simeon Doll and touchdowns from seven different Blue Wave players. Darien did all this without senior back Jake Wilson, Wilson missed the game with a bruised kidney, and will be a gameday decision if he'll return Thursday or wait to suit up in the Turkey Bowl. Junior Clifton Shelton saw his first career start and on 12 carries grabbed 69 yards, Shelton was giving a glimpse of what Darien will look like next year with the departures of Doll and Wilson in the backfield.
What Darien was extremely skilled at last week, was pressuring the inexperienced Bears' offensive and defensive lines. The Bears were forced to play with a backup QB who was being pressured all night. Darien dominated with an interception and two fumble recoveries by the defense. Darien held Norwalk to only about 20 yards in the first quarter. It was overall a great showing from Darien, and they look to carry that momentum into Thursday night to take down the other half of Norwalk in Brien McMahon.
This was a matchup that Darien won 34-0 a year ago, however, the weather delays and a forfeit at halftime from McMahon cut the game short.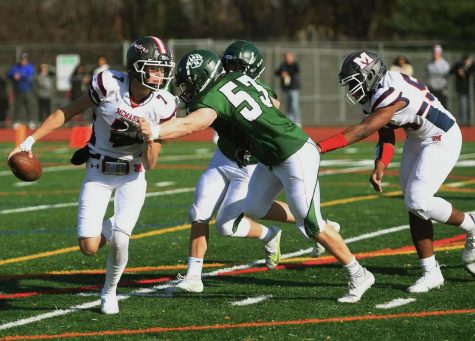 McMahon returns quarterback Callum Letters to the backfield, he struggled vs. Darien last year going 1-6 with 0 yards in the first half game. McMahon was kept to 6 total offensive yards in this contest, only 6! From year to year, the Senators did see some upgrades on the offense. As a result, they have managed to score 174 points on the season and have not been shut out in 2022. Junior Jaheim Daniels is having a solid year at the rushing position with 598 yards and five touchdowns on the season. Joining Letters on the passing game are receivers, Zyare Bradley and Jeremy Bynum. Bynum leads the team with 29 receptions for four touchdowns.
The Senators' defense consists of seniors Alex Letters, Will Moy, and Andrew Ehlers. This Brien McMahon team has gotten better over the years about defending the passing game and has seen nine interceptions, but where McMahon continues to struggle is defending the rushing game. Looking at McMahon's game against New Canaan a couple of weeks ago, the Rams only managed to pick up 50 passing yards all game, compare that to the 297 yards and five touchdowns the rushing side had. It goes to show that if McMahon is going to get beat it's not going to be on the long hail mary slant pass, but rather a great block and handoff to the back.
Darien will need to capitalize on the McMahon error both offensively and defensively. We saw last year in this meeting Alec Medwar return a 99-yard pick-six to the house stopping the Senators on their best drive. McMahon is a program rebuilding and will have these hiccups that Darien will need to take advantage of if they want to win Thursday night.
The Wave will pour all their attention into this matchup because after Thursday the team will get the bye week off before taking on New Canaan to cap off the 2022 campaign.
Thursday Gameplan
It may be on a Thursday, but it's the penultimate game of the 2022 season. This will be the final time Darien will take to the road before a potential state playoff game. Thursday serves as the perfect opportunity to grab a few friends and take the short road trip to Norwalk to cheer on the Wave. It should be only a 10-minute commute up and off the Boston Post Road. Thursday's weather calls for clear skies and temperatures in the 60s. Probably a good thing they moved the game to Thursday avoiding the Friday-Saturday showers.
If you find yourself staying in this Thursday and preparing for a killer Friday, DAF has you covered with the live stream. You can listen to DAF commentators Dylan DeRiso, and Cooper Puff call the action with kickoff at 5:30 pm.
Leave a Comment
About the Contributor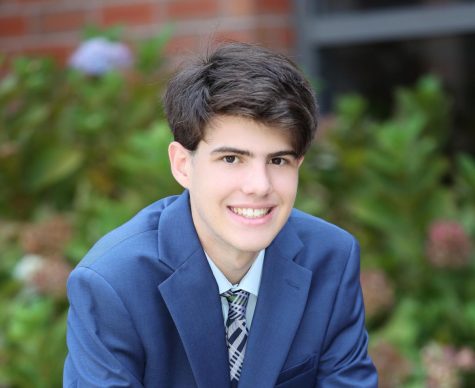 Braden Schenck, Sports Editor
Braden is a senior at Darien High School entering his first full year writing for Neirad. Braden can be found at the athletic facilities on the DHS campus...