Trader Joes Food Recs: Our Favorite Fall Foods
Trying Trader Joes' Iconic Seasonal Items So You Don't Have To
Trader Joe's is known for its seasonal specialities, especially in the autumn season, when pumpkin-flavored everything fills the shelves. Since there's so many options to choose from, we set out to narrow down the choices to the best buys. Here's what's worth it this fall from Trader Joes.
SWEET POTATO AND SAGE GNOCCHI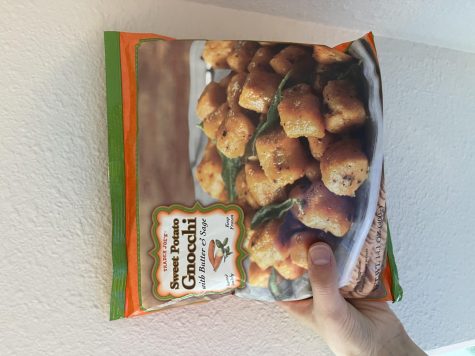 This gnocchi came together quite nicely. The sauce was thick, rich, and nutty, with a hint of sage flavor. However, the texture of the gnocchi itself was mushy after cooking for the recommended time. Also, if you're a fan of sweet potatoes (like me), you might be disappointed in the flavor of the gnocchi, which did not have a distinct sweet-potato taste. Nevertheless, this dinner was quick and easy to prepare, and good for a busy night. 
Rating: 3/5
MAPLE BUTTER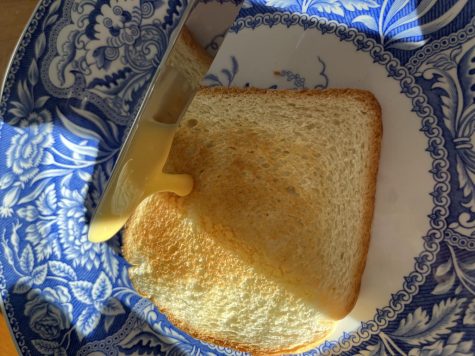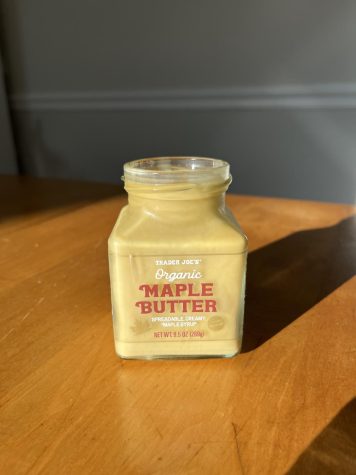 The maple butter was liquidy and tasted simply like maple syrup. I was expecting a creamier consistency with a more subtle maple favor, but instead it was just a slightly thicker and lighter-hued syrup. I think this "butter" would be tasty on pancakes, but it wasn't my favorite on toast, which was the purpose I intended when purchasing it. 
Rating: 2/5
PUMPKIN ICE CREAM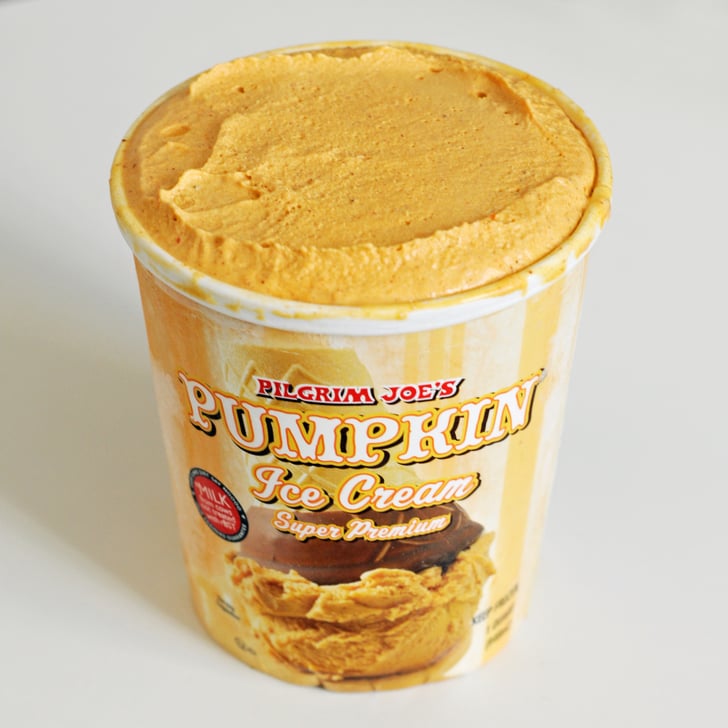 The famous "Pilgrim Joe's" pumpkin ice cream was extremely orange and autumnal, and while it didn't taste exactly like fresh pumpkin, it certainly had a distinct flavor. I could taste notes of classic, warm spices, such as cinnamon and nutmeg, which contributed to the autumnal taste. I definitely appreciated the consistency of this ice cream. It was smooth and creamy but didn't melt immediately after serving. However, there was a slightly odd aftertaste that made the treat off-putting.
Rating: 3/5
BONUS TIP: If you're on the hunt for the perfect pumpkin ice cream, I highly recommend the Talenti pumpkin pie layers ice cream. It's delicious and I love the different textures within.
BUTTERNUT SQUASH MAC & CHEESE
I was extremely skeptical about this Mac & Cheese at first, since from the frozen product, the cheese to pasta ratio looked uneven and the noodles were frozen solid. My worries completely dissolved as soon as I had my first bite, though. The pasta was perfectly tender, and the sauce was creamy and lucious. It tasted cheesy and had a distinct flavor different from plain Mac & Cheese, but the squash flavor was not overpowering.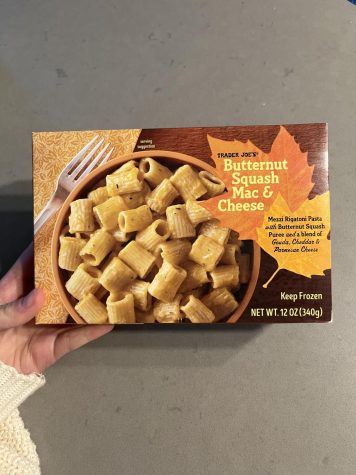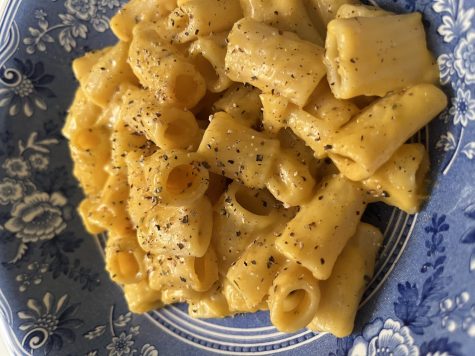 Rating: 5/5
CREAMY AUTUMNAL HARVEST PASTA SAUCE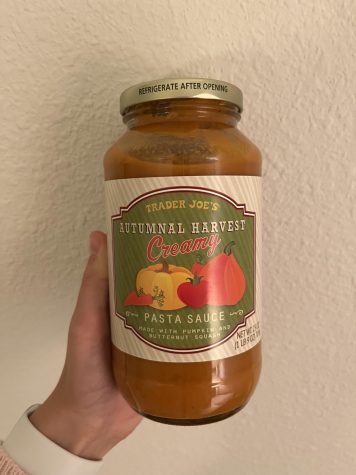 The pasta sauce was tasty and unique. I paired it with fettuccine and added in some sauteed onions and garlic for an extra layer of flavor (they added a little oomph but were not necessary). I could definitely taste the butternut squash in this sauce, but the pumpkin was not as prominent. It wasn't anything revolutionary, but overall I thought this sauce was a nice and autumnal change from regular marinara sauce. 
Rating: 4/5
PUMPKIN EMPANADAS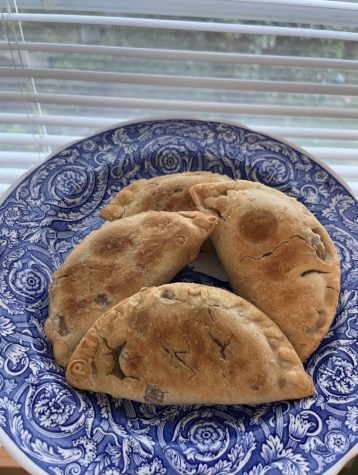 Unfortunately, I was not a huge fan of these empanadas. They didn't become as crispy as I had hoped, and the crust had an odd flavor. I thought they would be more like mini pumpkin pies, perhaps a bit more savory, but the filling lacked the sweetness needed to balance it out with the crust. I wouldn't buy these again.
Rating: 2/5
PUMPKIN BRIOCHE BREAD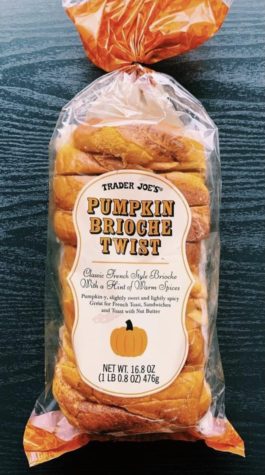 This pumpkin brioche bread tasted great, but I feel that it could have had a little more pumpkin flavor added to it. The cinnamon was twisted throughout the bread which was soft and pillowy. However, I feel that toasting the bread brings out more flavor and makes it crispier, allowing butter to melt on top of the bread. I also used apple butter on the brioche, which gave it a tangy flavor, but they still went well together. The pumpkin brioche also wasn't any sweeter than normal brioche. 
Rating: 4.5/5
PUMPKIN KRINGLE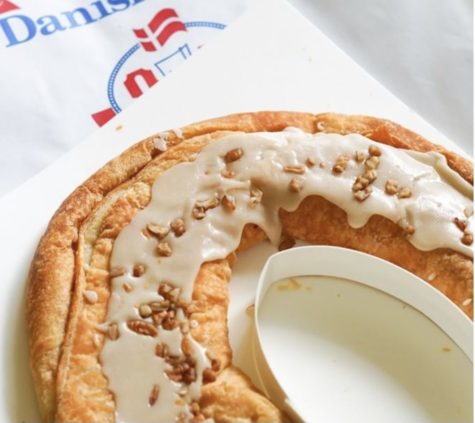 While I enjoyed the pumpkin kringle, I thought it could have been a little less sweet. The filling was a pumpkin paste inside of a crumbly, soft pastry dough with a sugary glaze on top and almond slices. I feel that the kringle could have gone without as much glaze, but it was good nonetheless. Also, although the kringle can be eaten at room temperature, I think that warming it up for a few minutes is much better, as the glaze and paste inside begin to melt and soften. 
Rating: 4/5
PUMPKIN PANCAKE MIX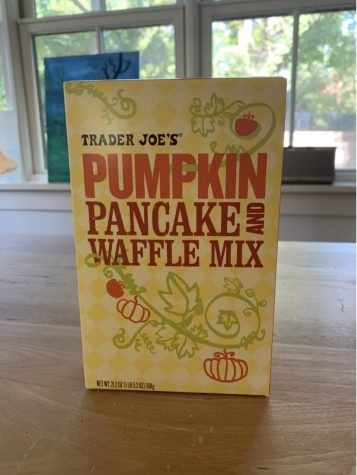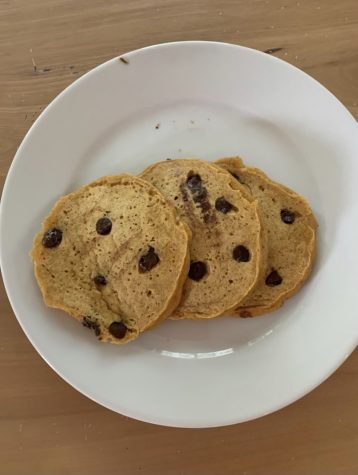 This pumpkin pancake mix makes the perfect fall breakfast, with just the right amount of pumpkin flavor and slight orange color. They had a nice cinnamon flavor to pair with the pumpkin, and they were light and fluffy, but still filling. I added chocolate chips for extra sweetness and they complimented the pancakes well. When I ate the pancakes with syrup, I felt it was too overpowering and clashed with the pumpkin and cinnamon flavors. It was too sweet with the syrup, but without it they were just fine. 
Rating: 4.8/5
Overall, Trader Joe's seasonal items are tasty and will keep you in the fall mood until Thanksgiving. Head over to Trader Joe's to pick up some of our top picks before the season comes to a close! Overall, we recommend the butternut squash mac & cheese, pumpkin pancake mix, and pumpkin brioche bread.