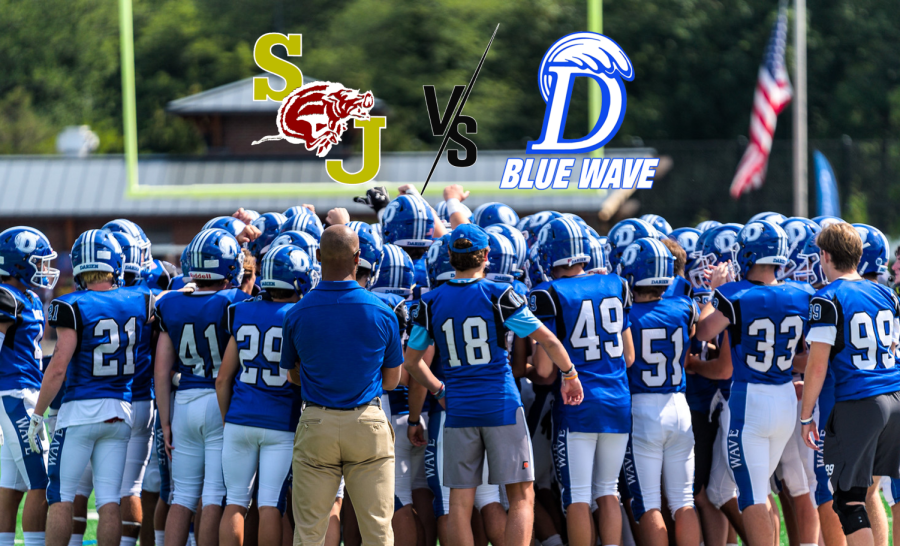 Darien @ St. Joseph – Week 1 Preview
273 days after Darien took down Fairfield Prep to win the CIAC Class LL state crown, the Wave return with a new look. Darien will travel 25 miles upstate to Trumbull to meet the St. Joseph Cadets in week 1 of the 2022 football season. In past years, this matchup has been known as a "clash of titans" with both sides being football powerhouses, however, this year's edition of the rivalry could be a bit different.
A meeting last year in week 8 went in favor of the Wave 42-14, however, a year later it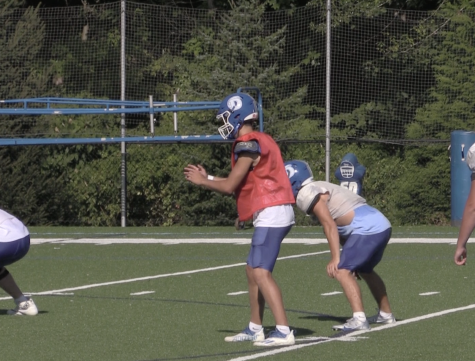 will be a new group of guys taking to Dalling Field. Darien lost All-FCIAC players in QB Miles Drake, WR Matt Minicus, DE David Evanchick, and DL Cole Murphy to graduation and it will be the class of 2023 looking to step up. This season the Wave will be led by senior quarterback Simeon Doll. Doll, who only played in 4 games last year going 0-3 on his passing attempts, will look to get the infamous high-powered Blue Wave offense rolling. Doll will be accompanied by senior running back Jake Wilson in the backfield. Wilson, who was a wide receiver last year with 24 receptions for 429 yards and 4 touchdowns has some big shoes to fill. All-stater Tighe Cummiskey (now at Lafayette for lacrosse) was the perfect rush option for the Wave last season, however, the senior captain Wilson is up for the new challenge. The Tufts football commit James Thom will return for his second year starting on the OL, and will look to continue to create opportunities for Darien's backfield.
On the defensive end, the Williams-bound Jack Barber will anchor the Defensive line with help from Layton Reesor and Mac McGahren in the secondary. Last year vs. St. Joes, the Wave managed to pick off 3 passes from Cadets QB Matt Morrissey, and this year they look to do the same damage with their new assets.
However, Darien isn't the only team with a new look entering 2022. St. Joes lost 43 of the team's 68 players from a year ago. 21 to graduation and the others for off-field reasons. St. Joes enters 2022 only with a 47-man roster and for the first time since 2008 will be forced to play players two-way.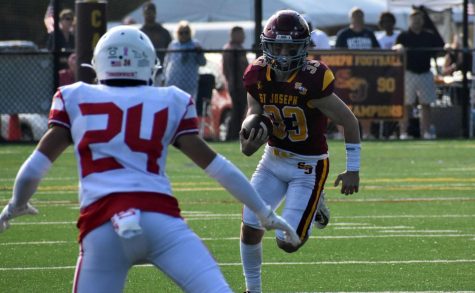 The Cadets will be under first-year Quarterback Will Singewald who takes over for Morrissey. The Cadets do return their starting running back from last year in Riley Jordan who rushed for 865 yards and 10 touchdowns a year ago. Also on the line of scrimmage, All-FCIAC second teamer Brandon Hutchison returns and looks to replicate his two touchdown performance against the Wave from a year ago. A reason to panic for St. Joes is of their returning six starters, only one is an offensive lineman so the Cadets do have some inexperience showing on that front.
As for the Cadets' defense, they will be led by senior Ryan DeMarco who was named to the All-FCIAC first team Defense last season, and he will be joined by a mostly inexperienced defense including 9 juniors and 9 sophomores. The Cadets won many games last year with late interceptions and with different players coming up clutch. 
Last year the Cadets won the FCIAC crown with their sole regular season loss coming to Darien, however, an upset to the Windsor Warriors in the semifinals is where St. Joes left it in 2021.
This matchup has more significance than in prior years as the new CIAC classes for 2022 have the Cadets and Blue Wave both in Class L. They join powerhouses New Canaan and Maloney in that class. This week 1 matchup will be a tone setter for the Class L this year and have major impacts come time for the state playoffs in December.
Saturday Gameplan
If you are thinking about taking the trip up to St. Joesph to catch this one, you can expect a beautiful day for some football. Temperatures in the mid 80's and partly cloudy but mostly sun in the forecast. You should plan to give yourself extra time to fight the traffic and long walk from the parking lot for the first white-out of 2022.
If you can not make the trip up to Trumbull, DAF has you covered with the live stream. You can listen to DAF commentators Braden Schenck and Michael Mercein call the action with kickoff at 1:30pm.