Who is Gracie Abrams? A Review of her new album This Is What It Feels Like
While Gracie Abrams may be known now for her famous parents, she's making sure that she will be remembered for her contributions to the on-the-rise 'bedroom pop' genre of music. Abrams, 22, is a singer-songwriter and the daughter of acclaimed director J.J. Abrams. He's known for directing the new Star Wars movies, Star Trek, and the hit TV show Lost. But enough about him.
His daughter Gracie is making serious waves in the music industry at an extremely young age. She released her first EP minor in 2020 at only 20 years old. The 7 track debut gave Abrams some more recognition in the industry as more than just a nepotism kid. Abrams released her first studio album, This Is What It Feels Like, on November 12, 2021. Coincidentally the same day her friend and fellow singer-songwriter Taylor Swift rereleased her 2012 album Red. Gracie has also recently just finished touring around the country opening Olivia Rodrigo's Sour Tour. This Is What It Feels Like is an album full of emotions and feelings Gracie has ranging from heartbreak to nostalgia to hopelessness to love.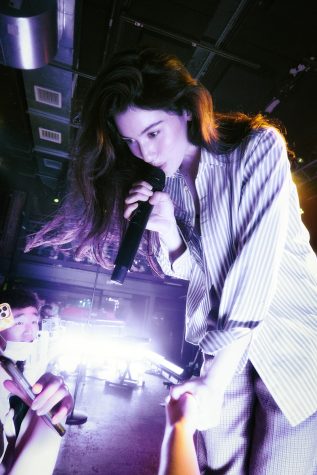 The album starts out with the title track Feels Like. The song starts out with a slow piano in the background but eventually picks up the tempo as the chorus gets closer. Feels Like is a very happy and upbeat song, with background vocals and a synthetic beat keeping the tempo. With lyrics like, "I would do whatever you wanted. We don't have to leave the apartment. Met you at the right time, this is what it feels like" in the chorus, Abrams shares her experience of what it feels like to meet the right person at the right time. Feels Like is the most streamed song on the album according to Genius and is one of the few faster paced songs, like The Bottom and For Real This Time. 
What I think Abrams captures perfectly in her album is the feeling of heartbreak when it comes to relationships, romantic or platonic. Her slower sadder songs like Rockland, Augusta, and Camden (to name the most popular ones) really deliver a huge box of emotions for the listener to unpack. For example, Rockland is a very moody song with feelings of reminiscing and regret. Abrams is reflecting on a past relationship and how it went wrong, which is very generic. But she makes it unique by being completely raw and honest in the lyrics, confessing that she wasn't the victim in the relationship and she did some bad things. Lyrics like "Bet you wish you never even met me. I can't blame you, broke your every heartbeat" and "I see you every night in my sleep, anticipating every bad dream. Like falling with a knife, you cut deep" Abrams shows that her songwriting skills are just as talented as her voice.     
While Gracie's bedroom pop style of music may not be for everyone, she is definitely an artist worth looking into if you enjoy other singers like Taylor Swift and Lorde. I found that This Is What It Feels Like is very similar to Taylor Swift's Grammy winning album, folklore, and Lorde's 2017 album Melodrama. So if you're ever in the mood for a train wreck of emotions to knock you out in less than 45 minutes, check out This Is What It Feels Like!
For more on Gracie check out her website!