An 100% Brutally Honest Review of Chipotle Mexican Grill
They charge extra for guacamole, is that legal!?
I love Chipotle, there's no denying that.  But today I'm going to look at Chipotle in a different way and determine whether it's worth your money.
As soon as you walk into any Chipotle restaurant, the vibe is very sleek and minimalist. The decor is industrial with stainless steel tables, leather barstools, and steel framed chairs.  This makes it clean, modern, and inviting. Similar to a Subway, the ordering process is simple and efficient.  Since it is 100% customizable, your options are laid out in front of you.  Other methods of ordering can be found using the Chipotle app.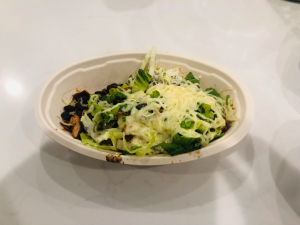 I decided it was time to see if Chipotle was worth all the hype.  I have been to Chipotle only a handful of times, so I went to the Darien location to inspect every aspect of this super chain.  I chose their burrito bowl, which is basically everything you could ask for from a burrito without the tortilla.  I found they are much easier and less messy to eat.  The portion is almost too big so it won't leave you hungry for more.  
Chipotle restaurants are constantly adding new menu items to satisfy all of their customers.  They recently announced that they would be adding smoked brisket to their menu.  Over the summer, they released a limited time only substitute for grain rice, which is cauliflower rice.  I tried to order this a couple of times, but each restaurant I went to didn't have it available, which was disappointing.  Here is a link to their full menu: https://www.chipotle.com/
By far my favorite parts of the burrito bowl were the toppings.  I got their guacamole, which was visibly fresh and super creamy, the pico de galo that had the right amount of lime and salt, cheese, and the fajita veggies which were multicolored peppers and onions that were to die for.  The thing that sets Chipotle apart from their competitors like Taco Bell are their use of fresh ingredients that look like they were prepared an hour prior.  Chipotle doesn't mess around with their uses of spices to make their meals bursting with delicious flavors (this is what you would expect from any good Mexican grill). A random thing that I have noticed that is important to consider is that their bathrooms are always immaculate, which is reassuring that cleanliness is a top priority given they are preparing your food.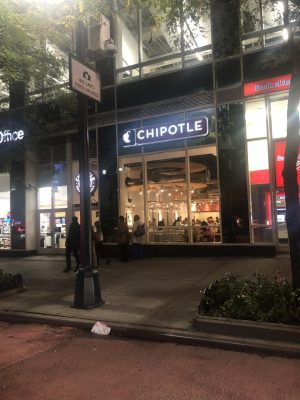 There is much to love but an issue that I didn't find appealing was there were several pieces of steak even though I ordered chicken.  I can see how they could have just fallen into the wrong container, but for somebody with an allergy or who is a vegetarian/vegan, this could result in dissatisfaction or disaster.  Taking this into consideration, Chipotle provides a variety of options for people with all diets.  The sofritas are a vegan tofu alternative, and there are countless vegetables available. Another question to take into consideration, is Chipotle actually healthy? Find out more in this article: https://www.glamour.com/story/is-chipotle-healthy 

Some people say they will never hop on the bandwagon Chipotle.  Not only is the line ALWAYS long no matter when you go, it's much more expensive than your average fast food restaurant.  In comparison, most items at a Taco Bell are less than $4, but at Chipotle, they can be upwards of $13.  Finally and most importantly, guacamole is an extra cost.  In my opinion, this is a staple in any successful Mexican dish, and this just adds to the already high price.

PapiEats

Honestly, I think that Chipolte has too much hype.  There are so many small businesses in town and the surrounding area that prepare authentic Mexican cuisine with are a way better way to spend your money.  Some of my favorites are Baja Joes in Darien, Bodega, and Casa Villa in Stamford.  If your not looking for a sit down meal, then Chipolte is definitely the next best option.  This may have you wondering whether or not you should go.  I think that it is a fun option to try, but it will never replace a sit down restaurant, which was probably never their intention in the first place.

Big news! A new Chipotle is in Stamford at 1207 High Ridge Road Stamford CT.

Will You Go to Chipotle After Reading This Review?

Sorry, there was an error loading this poll.
Leave a Comment
About the Contributor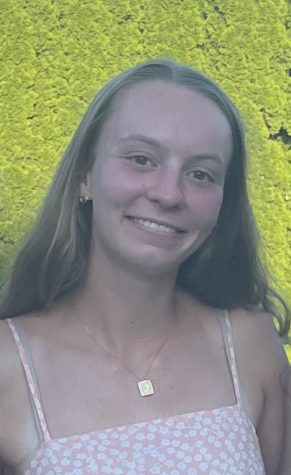 Julia Blake, Editor-In-Chief
Julia is a junior who started writing for Neirad in the fall of 2020. She loves writing about current events, popular culture, and school news. When she's...