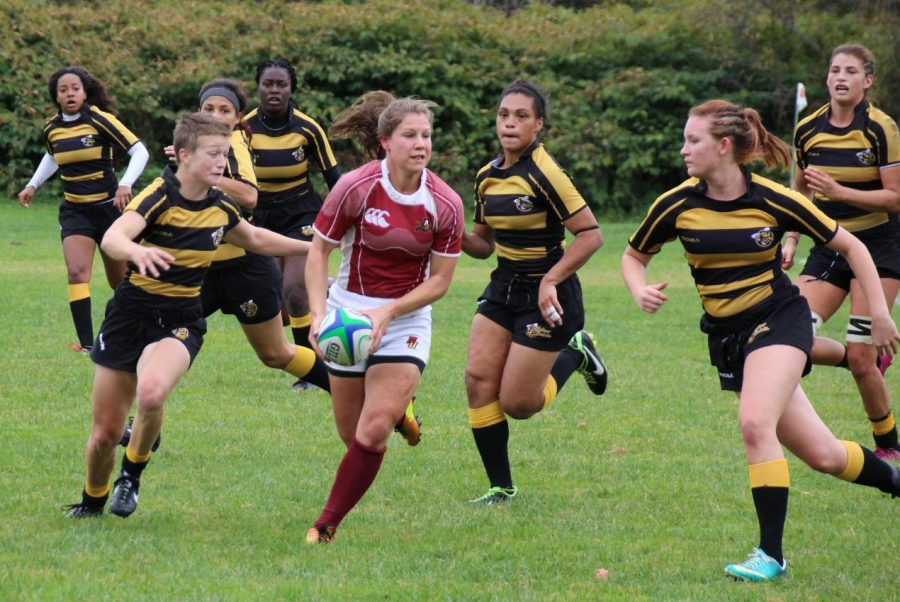 Girls Rugby Is Here!
Girls Rugby Has Begun Practicing and is Looking Forward to Competing in the Spring of 2020
Whenever one says the word "Rugby", one imagines muscular men going at each other for an oval ball on the muddy field. Therefore, a high percentage of people rarely imagine girls playing the same daring sport. As a 200 year old sport, it offers a challenge, is impressive, and not the least bit 'girly'. Women's rugby is an  empowering sport played throughout the world, and girls rugby has finally arrived at Darien High School.
Currently, girls rugby is being played by over 2.3 million women all over the world. As a feminist advocate and the first girl to play football at DHS, I fell in love with the idea of joining the girls rugby team that was just starting up at DHS.
After playing football during the fall of 2018, I recognized the amount of teamwork and the caring atmosphere the team offered. Trying out the new girls rugby team was an easy transition for me. The team is always open to new players interested in the sport. I have never played rugby in my life and barely heard about the game, but current history teacher and Fairfield Prep boys rugby coach Mark Stepsis introduced me to the game and I became intrigued in the future of the Blue Wave girls rugby team.
Freshman Karys Webb is the founder of the team. After speaking with her about what influenced her to begin the team she explained: "I love trying new things and I could really see myself getting to love this sport and I see that in the other girls. Also a video that was suggested to me to watch inspired me. It said that with a rugby team, girls have the ability to play sports deemed traditionally as a guy sport," Webb said. This idea should encourage others to go against these old ideas that rugby is only a male dominant sport. Girls should be able to pursue the same fun adrenaline boys get from tackling and using strength.
Webb began to speak with Mr. Stepsis about forming a girls rugby team that could be formed and established for the first time at DHS. Webb said, "I started to gather and encourage people to come to our practices as everyone would be trying rugby for the first time." As one of the students asked to come to the first practice, I was happy that there were other girls who have never played the sport before. The first practice was great, Mr. Stepsis had a great way of teaching us the basics of rugby in an understandable manner.
As difficult as rugby may be, Mr. Stepsis had the ability to weave skills into interesting activities. Mr. Stepsis explained to me that, "Its ok to make mistakes. Keep trying and ask questions. Getting better is fun!" Mr. Stepsis said. When Mr. Stepsis said this throughout the first practice, its gave me the confidence to continue pushing myself to get better. From then on, Stepsis introduced new tackling drills and games to allow us to understand the concept of rugby.
I realized that I was not the only person who enjoyed the first practice and the context of the game. After speaking with freshman Emma Danile, she clarified, "I really loved the first practice because it gave me a sense of what rugby was going to be like. I really like the more aggressive sports to keep you on your feet at all times and you learn a lot of skill from the game."
Clearly, these practices have improved the girls' skills in a matter of days. Each athlete has been able to improve at her own pace.
"
I think that with the right people, this team can be the next big thing at DHS"
— Freshman Karys Webb
Currently there are 12 participants interested in creating a team for the upcoming spring season in the 2019-2020 school year. To make an official team, there need to be a total of 25 participants. If there are any students interested in playing come to informational meetings that will be hosted at the beginning of next year. If you have no former knowledge about the sport, don't worry, because most of us started that way as well! Email Karys Webb or me to get more information about after school practices. Right now practice starts after school till 4:30, so come join!
Check out the Blue Wave Sports Blog to see how the DHS boys rugby team is successfully blowing through the season.