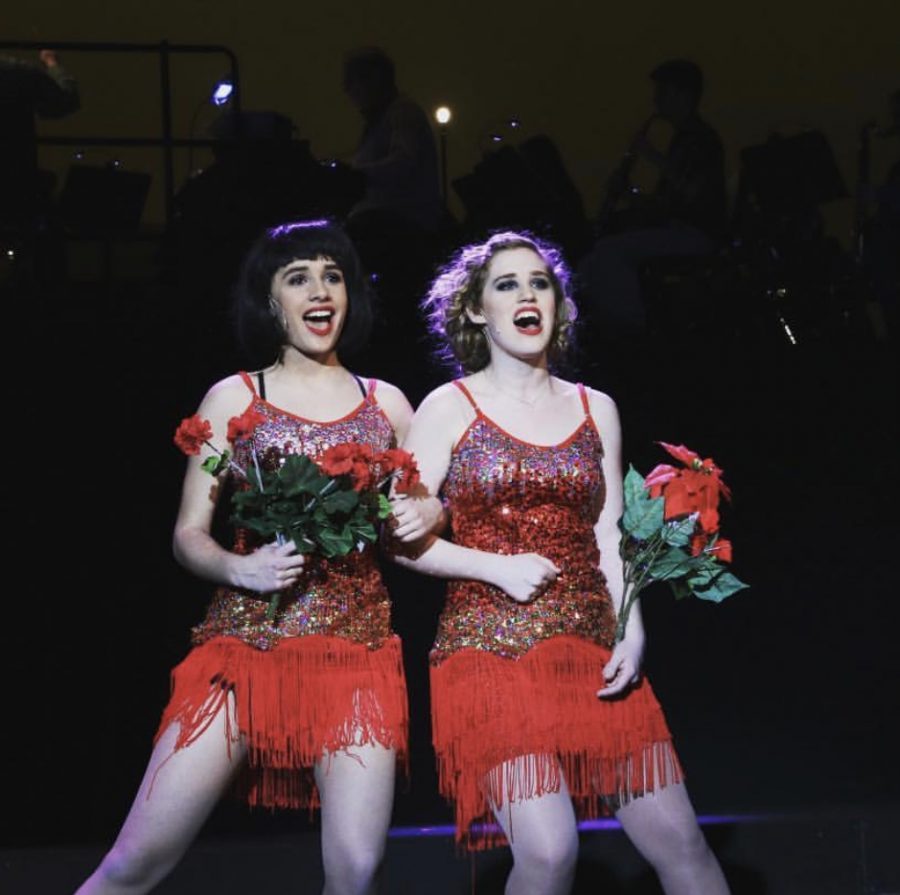 CHICAGO: A Story of Murder and Jazz
It would be criminal if you missed, Darien High School's Chicago the Musical!
Theatre 308 will present the longest running American musical in Broadway history, Chicago, at the Darien High School Auditorium, March 22 – 30, 2019. Chicago, the winner of six Tony Awards for its revival in 1996, takes place in the roaring twenties, a time of great political corruption and media sensationalism. Failed vaudeville performer Roxie Hart murders her faithless lover and convinces her hapless husband, Amos, to take the rap…until he finds out he's been duped and turns on Roxie. Convicted and sent to death row, Roxie and another "Merry Murderess", Velma Kelly, vie for the spotlight and the headlines with help from Chicago's slickest lawyer Billy Flynn.
Middlesex English teacher and production director, Mr. Tim Sorensen – who took home Best Director honors at The Stephen Sondheim Awards back in June for last year's 308 production of Footloose – said, "Putting on a show like Chicago is a dream! It will challenge students in a way that no other musical can. The dancing alone is very demanding. But if there is one thing our students can handle, it is a challenge. I'm excited for the community to see what they are truly capable of doing."
"
"Putting on a show like Chicago is a dream!""
— Mr. Sorenson, Director
Bob Fosse, who wrote Chicago and choreographed the original production back in 1975, is known for his unique and particularly difficult dancing vocabulary. For this production, choreographer Emily Frangipane has mirrored many of his signature moves while incorporating new sequences that set the Theatre 308 production apart from the Broadway version. Also, to help capture the true spirit of the time period, costumer and Darien resident Amy Raskopf has worked extensively with our student designers to help develop a look that moves beyond the risque reputation of Broadway and better suits the high school stage.
Theater 308 will be performing a new rendition of Chicago that is designed for high school performances. Prior to the release of this version, high schools have not been allowed by the publisher to produce Chicago for over five years. While some dialogue and musical numbers were tweaked to reduce profanity, classics like "All That Jazz", "Cell Block Tango" and "Mr. Cellophane" remain to wow audiences.
Mr. Sorensen explained another first for this year's production: "Broadway productions have multiple performers ready to play multiple parts on any given night. And we have so many talented actors, singers, and dancers, that we put together a swing cast."
The primary role of this year's swing cast is to operate as understudies in case one of the principle actors cannot perform. "However, to ask a high school student to learn a significant part and not get a chance to perform it is a big request," Mr. Sorensen said. "Therefore, we will hold our first ever 'Swing Night', where our swings will get their chance to show off their talents in a more significant role."
Performances will be on the 22nd, 23rd, 28th, 29th, and the 30th. The 29th will be a performance with the swing cast. All performances will begin at 7pm. Tickets are $10 for students and $20 for adults and no tickets will be sold at the door. To reserve a seat, go to seatyourself.biz/theatre308. For more information follow @theatre308 on Instagram, Snapchat, Twitter or check out our website: theatre308.org
Want to read more about 308's other productions? Check out these articles!