A Great Place to Study: Humbled Coffeehouse
As finals week approaches, Humbled Coffeehouse is a great place to get some studying done!
Humbled is a small coffee shop about 10 minutes from DHS, located in Stamford. Inside, there are about four tables, a small area with couches and cushioned chairs, and a desk by the window. As this coffeehouse is on the smaller side, it is very quiet, with classic coffeehouse music playing in the background. Due to the size, you may slightly overhear the conversations of people sitting next to you, but nothing too distracting. Humbled is a great place for those who cannot focus in loud places; the space is very calm, making it easy to crack down on work. As well, wifi is free, which makes the coffeeshop an even more optimal space for studying. I personally did not work much while I was there, as I was enjoying spending time with my friend, but others were able to focus on their projects. On weekdays, they open at seven in the morning and close at six, and on weekends, hours are shortened slightly from eight in the morning to five in the evening.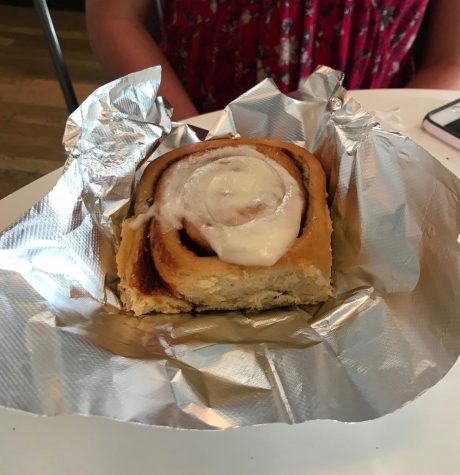 Humbled Coffeehouse has a variety of snacks and drinks. I went with a classic iced coffee and thought it was delicious. The barista asked me what I take in my coffee, but there was also a side table with milk and sugar so I could add more to my drink. I also ate a giant piece of coffee cake, which was amazing. Both my coffee and cake added up to about $7, which is not too expensive, considering their quality and size. My good friend Cailin Henry ordered a huge cinnamon bun, which came warmed up. She also drank a passion tea lemonade, and she found both her snack and drink flavorful. A quote from Henry about Humbled: "Very hip vibe and great food. It's the perfect place to hang with friends."
A caution to those who attend: the parking lot is a bit confusing, and I suggest parking to the left of the coffeeshop, not directly in front. Nevertheless, it was lovely to venture out of Darien and see what other hang out places exist nearby. I cannot wait to go back, and fully recommend it to those looking for a peaceful new spot.