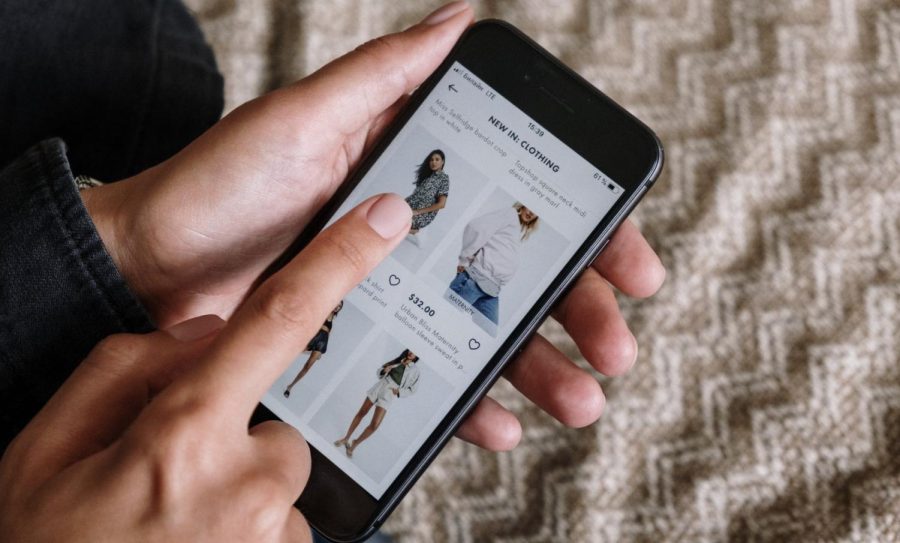 CottonBro
Overview 
Fast fashion has a huge environmental impact, both in terms of production and disposal. Clothing manufacturing consumes a lot of energy and resources, and it relies on harmful fabric dyes and other chemicals that pollute fresh water.
Water pollution and consumption, microfibre contamination in the ocean, waste accumulation, chemical use, greenhouse gas emissions, soil deterioration and desertification, and rainforest loss are all linked to the fast fashion sector.
Reported by, The Most Popular Fast Fashion Brands, Ranked for Conscious Consumers | Brightly Staff , " Fast fashion is responsible for about one-third of all microplastics found in the ocean and is producing 20% of global water waste. In addition, 85% of all textiles wind up in landfills every year. To put that into perspective, that's the equivalent of one garbage truck loaded with clothes being dumped in a landfill every second."
Fast fashion is 'fast' in a number of senses: the changes in fashion are fast, the rate of production is fast; the customer's decision to purchase is fast; delivery is fast; and garments are worn fast – usually only a few times before being discarded.
Fast fashion became popular as a result of cheaper, faster manufacturing and shipping technologies, increased consumer demand for up-to-date styles, and increased consumer purchasing power—particularly among young people—to satisfy these instant-gratification wants.
What Are Some Popular Fast Fashion Companies? – The Most Popular Fast Fashion Brands, Ranked for Conscious Consumers | Brightly Staff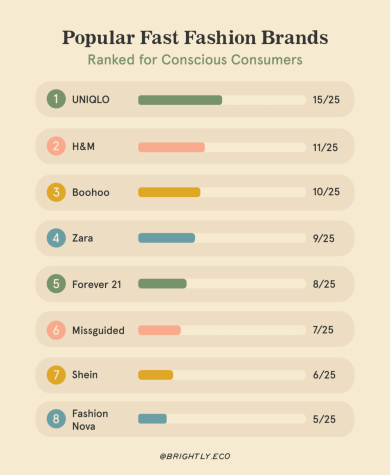 Shein : According to the article, It's Time to Find Ethical Alternatives to Fast Fashion Giant SHEIN | Eco-Stylist, " Remake, Eco-Stylist's partner, looked further into SHEIN's practices and policies, including their green-washed claims. Their findings prove SHEIN is not better quality, not better for the environment, not better for the makers—simply not better for anyone."
Remake's criteria is based on transparency & traceability, maker well-being, environmental sustainability, sustainable raw materials, leadership, and diversity & inclusion. They create a transparency report that gives the brand a score for each of these categories. So how did SHEIN score? Their original evaluation yielded 0 points—yikes! Their most recent evaluation, based on Remake's 2021 Accountability Report, yielded 5 points​​—still yikes! Remake's analysis drew several conclusions about the problems with SHEIN.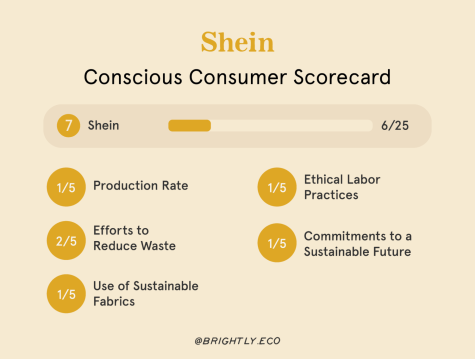 Fashion Nova:
This brand reports adding about 1,000 new arrivals to its website every week, or 143 daily. It also boasts about how quickly the company is able to predict fashion trends and send them out to customers. The company's Instagram biography tells shoppers it offers fast worldwide shipping, making its products widely available across the globe.
Unfortunately, the brand does not go into detail about its production rate, efforts to reduce waste, or plans to use sustainable fabrics. Fashion Nova has earned the lowest score on the 2021 Fashion Transparency Index for withholding this information.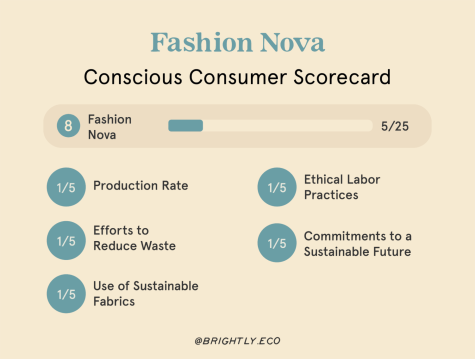 What Can You Do About Fast Fashion?
Buy consciously and look for ethical brands.
Buy second hand or repair what you already have.
Join a fast fashion campaign, such as Fashion Revolution or the Clean Clothes campaign.
Follow the 10 tips to ditch fast fashion.
Over all become more eco friendly towards our planet and research what do humans that is bad for the planet | Here is a basic article that might help – 21 Habits That Are Bad for the Environment | Allie Hogan