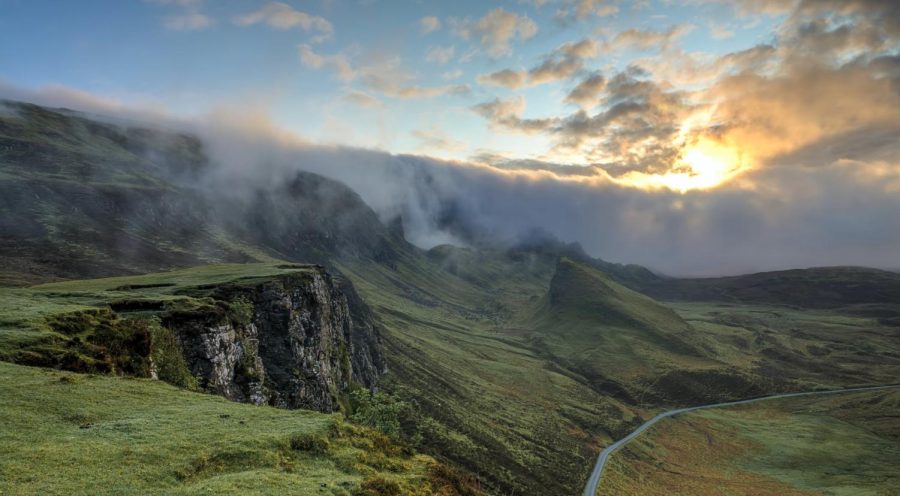 v2osk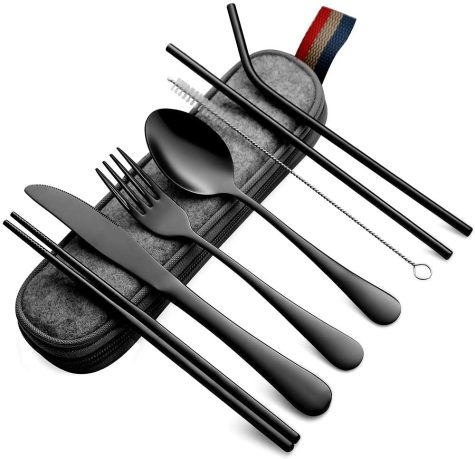 Portable Utensils  – DEVICO Portable Utensils, Travel Camping Cutlery Set, 8-Piece including | Amazon 
The 8-piece portable silverware set includes: dinner knife, dinner fork, dinner spoon, chopsticks, straw cleaning brush, straight straw, bent straw, carrying case. Suitable for travel, camp, school or workplace. It has a protective case that is easy to open and store. All of these items are easy to wash and are dishwasher safe. Silverware set of 8 pieces with a simple appearance, clean edges without rough areas, anti-oxidation, fashionable and generous. The cutlery set may be coupled with any kitchen design to fulfill everyone's basic dining needs. This item also has a 60-days refund or replacement if any customer feels like their satisfaction has not been met. There are all positive outcomes when using this product, the main reason is that it is reducing the single use of plastic utensils. When plastic items are manufactured, toxic chemicals and fumes are released. This item comes in all different colors, the color with the highest price is 15.49, and the lowest is 9.99. The price of this set depends on the color you choose, which can be irritating. I do think 15.46 + tax is reasonable price.  I will give this a 9/10.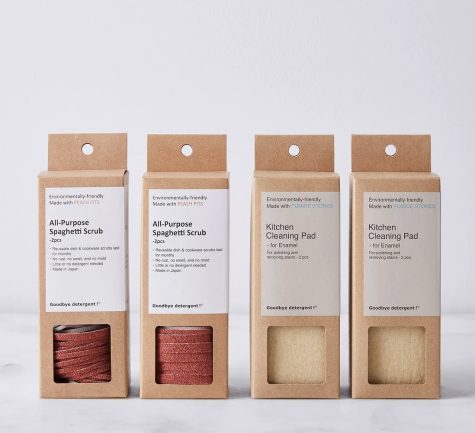 Eco Friendly Detergent Kitchen Scrubs  – Goodbye Detergent Kitchen Scrubs | Goodbye Detergent, Food52  
This item caught my eye because it was something I had never seen before. The level of creativity is unmatched. These environmentally friendly scrubbers were created and manufactured in Japan. They're made from natural and recycled materials like peach pits and pumice stones, and they have a tough grit. They're also completely reusable, so you can use them over and over. Plus, with a variety of shapes and textures to select from, you'll have a companion for any work. On the website, you can either purchase the full set which is 30$, or the spaghetti scrub and cleaning pack can be sold in the pack of two, which is 24.00 – 24.99. This is a great deal considering the fact that is reusable, eco friendly, and clever. I will give this item a 8/10.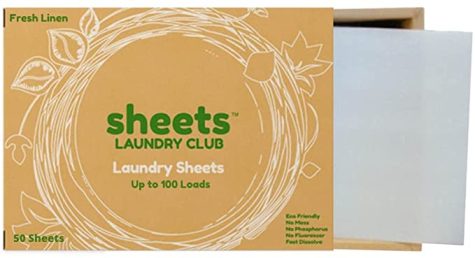 Eco Friendly Laundry Detergent Sheets – SHEETS LAUNDRY CLUB | Amazon
The liquid-free laundry detergent sheet softens and reduces wrinkles while also removing odors, stains, and grime.T his item is ideal for everyday laundry cleaning, including cottons, linens, blends, and durable synthetics. It's also safe for whites and all colors, and you can use it in hot, cold, hard, or soft water. It states on their website that these concentrated laundry detergent sheets are formulated to last 3 years and is also made without harsh ingredients, making it safe for you and your clothes. This laundry sheet is Septic Safe, HE Compatible, Vegan, Dye Free, and Biodegradable, as well as being Eco-Friendly, Plastic Free, with Recyclable Packaging. Just drop 1 Sheets from our recyclable box into the washer and you're done. Can lasts up t0 100 loads, for those who do extra small to small loads you can use 1/2 a sheet for a full clean. Made with 0% dyes, or artificial brighteners. Dissolves completely in hot or cold water. This item is perfect for sensitive skin. On Amazon it states, that it is 16.65$. This is a great deal. I will give this a 9.5/10.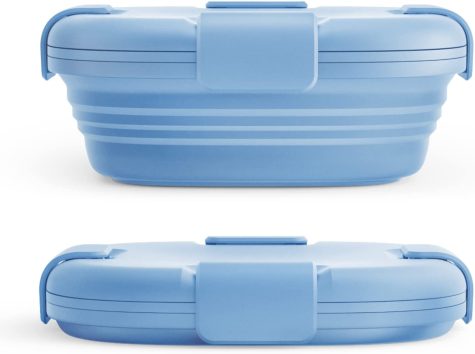 Reusable Food Container –  Stojo Collapsible Sandwich Box | Amazon
This is a food container that can be composted: The Stojo Box is designed to fit a sandwich inside, but it can also be used for salad, spaghetti, cereal, or anything else. This small box folds to about 1.2 inches in length. To save space, it stores nested and flat, then opens to upgrade your meal prep, leftovers, and work lunches. It keeps your sandwiches from smooshing and single-use bags out of landfills, unlike plastic baggies. Plus, an Aquamarine Blue container is much more appealing. Dishwasher and microwave safe: It's only practical to snack for a long time if it's also convenient to clean. Place your Stojo on the top rack of your dishwasher or wash it by hand to clean it. The Stojo Box (and all Stojo items) are meant to be disassembled and reassembled for a thorough cleaning. The lid and base are detachable pieces. This item is made from platinum food-grade silicone and #5 recyclable plastic which means no BPAs, BPSs, phthalates, leads, or glues. This item's price on Amazon is $20. I'll give this a 9.5/10 because of how durable and convenient it is, as well as the reasonable price.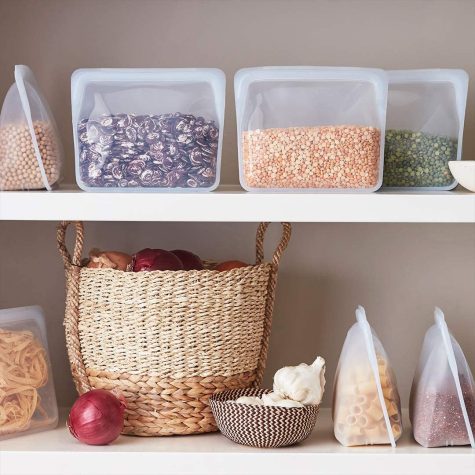 Reusable Storage Bag – Stasher Platinum Silicone Food Grade Reusable Storage Bag | Amazon
This reusable bag keeps food fresh at home, or even if you are on the go. The world's first completely functional, leak-proof, reusable plastic bag substitute. The PINCH-LOC seal on Stasher Bags is a revolutionary air-tight seal. Food can be frozen, baked, marinated, and stored. This bag can be used in the dishwasher, freezer, oven, and microwave and can withstand temperatures of up to 400 degrees Fahrenheit. This item comes in all different colors, and the price on Amazon is 18.99$. That is a bit expensive, especially if the consumer wants to buy more than one bag. However, I believe that this is a game-changer, and that it is assisting humanity in reducing the use of plastic bags. I will give this a 8.5/10.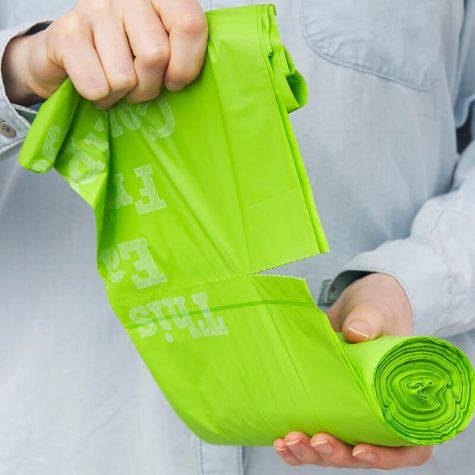 Bin Liners –  COMPOSTABLE BIN LINERS | Onya
These compostable bin liners are a great alternative to plastic bin liners, and they're certified compostable according to international standards for both household and commercial composting. This means that after 12 weeks in an industrial composting facility, these bags are deemed "worm safe," with no plastic residues or microplastics remaining. These bags are sturdy and have good rip and puncture resistance, as they are made from a plant-based film that is devoid of petrochemicals, parabens, and sulphates. Each roll contains 25 bags. 100% GMO, palm oil & petrochemical free. Made From plant based material. Superior tear & puncture resistance. Certified Home & Industrial Compostable. On their website size 8L is 6.95, 30L is 12.95, 36L is 18.95, and size 60L 25.95. Although these items can be pricey, and depending on the size, I'm sure you can find cheaper alternatives, having one in your home will be beneficial to the environment. I will give this a 7.5/10.