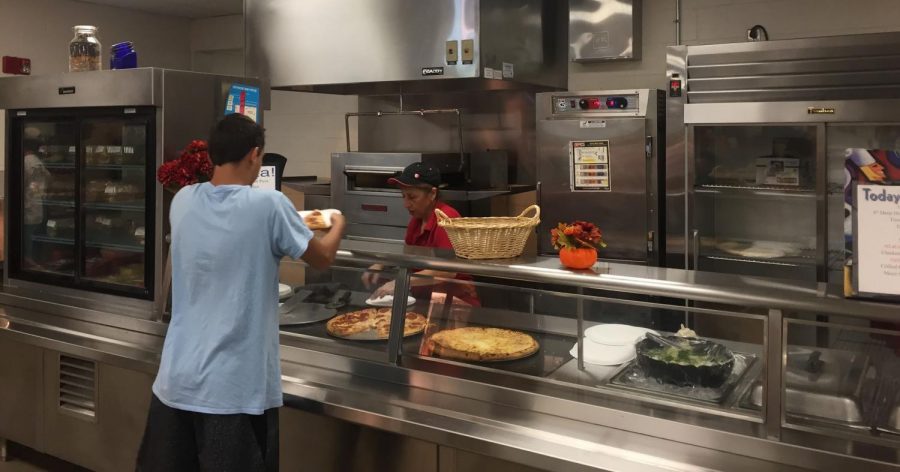 Our small town of Darien sits right in between New Haven and New York City, two of the most famous pizza cities in the country serving up some of the most delicious pies in the tri-state area, but Darien has yet to produce a pizza joint on the same level as any of these places. The "big four" (as I like to call them) of Darien are Post Corner, Planet Pizza, Papa Joe's, and Heights; all of which produce good, not great pizza. There is one slice in Darien that I'm forgetting about, though, the cafeteria pizza at Darien High School.
This past week I ventured down to the cafeteria to review a slice of cheese pizza from the cafeteria. I had never had the pizza before but had heard many mixed opinions; I was ready to give my take on the slice and end the discussion once and for all. If you're reading this article you've probably already seen the video of the review on Instagram, but this will be a more in depth look at the pizza, giving more reasoning for why I gave the score I did, as well as insight from other pizza connoisseurs at DHS.
First of all, I need to explain my inspiration for the review. Dave Portnoy, the CEO of Barstool Sports, does a daily review of a slice of pizza in Manhattan, and plans to do so until he hits every restaurant on the island that serves pizza. Portnoy has a lot of mannerisms that make the videos hilarious, such as his famous line "one bite everyone knows the rules", while he continues to eat several bites before he gives it a score. He also coined the term "New York flop" when the cheese slides off the pizza. These were a few things that I tried to emulate but put my own spin on when I did the review.
Before I did the review, I asked senior and pizza expert Craig Triano for his best advice: He reminded me that; "the pizza's only good if it's piping hot". Keeping this in mind, I did everything I could to get a slice right out of the oven. Luckily I did, and the stage was set: I had a slice of the infamous cafe pizza in hand.
Walking out to the auditorium doors with my cameraman, senior Jack Tierney, the pizza did not look good. To be brutally honest, the cheese looked like a gross greasy glob, and the crust looked like something reminiscent of saturated cardboard. My hopes for a good slice of pizza were dropping hard and fast.
Although the first impression was subpar, freshman Evan Devita made his argument in support of the pizza. Devita said, "The pizza is pretty good, I really like the texture of the crust, it's honestly a pretty underrated slice."
I tried to keep these words in mind when I took my first bite of the pizza, but what I found was definitely not -in my book- a good slice of pizza.
First of all, there was heavy "Darien dangle" on the slice, meaning that the under cooked cheese was already sliding off. I took my first bite; the oddly flavored cheese overwhelmed my palate in the worst kind of way, while the sauce lacked quite a bit of flavor. I didn't get a whole lot of crust on my first bite, so when I went in for another I took a big munch off the back corner to get some good crust surface area. I found that, despite Devita's assessment, the crust did not in fact have good texture, and it kind of tasted like plastic.
I realize this is a pretty rough assessment, but come on guys, I love pizza and I would be doing a disservice to everyone out there by telling you that it was good, and would also be disrespecting the world of pizza itself. I'm not the only one who thinks this, as freshman Asher Silverman told me: "The pizza is weirdly moist, not greasy, moist. It's not very appetizing"
So after my quick assessment, I gave the slice a 4.2 out of 10 possible points, which I'm now starting to think is too high of a score. In all fairness this was my first pizza review and I'm what the experts call a "rookie", but you live and you learn. My parting words would be this, don't eat the cafe pizza unless you have literally nothing else to eat and there is nothing else in the cafe. If you would like to see the pizza review in real time, head over to Neirad's Instagram, 'dhsneirad', to see the video.